Electric bikes are changing the way bikes are made. They provide so many benefits that even hunters are using eBikes. But did you ever come across an eBike cargo trailer?
eBike cargo trailer is a perfect way to expand the storage, transport heavier objects or just help haul all the groceries back from the shop.
But should you upgrade your eBike with an electric bike trailer and if you do – what can you expect?
You're in the right place as these are just some of the questions I'll answer down below! So keep on reading as you'll learn plenty of things that will help you make your decision!
Not only that, but I'll also review one of the best eBike trailers, so depending on your decision – you might have the right choice in front of you.
Can eBike Pull a Trailer?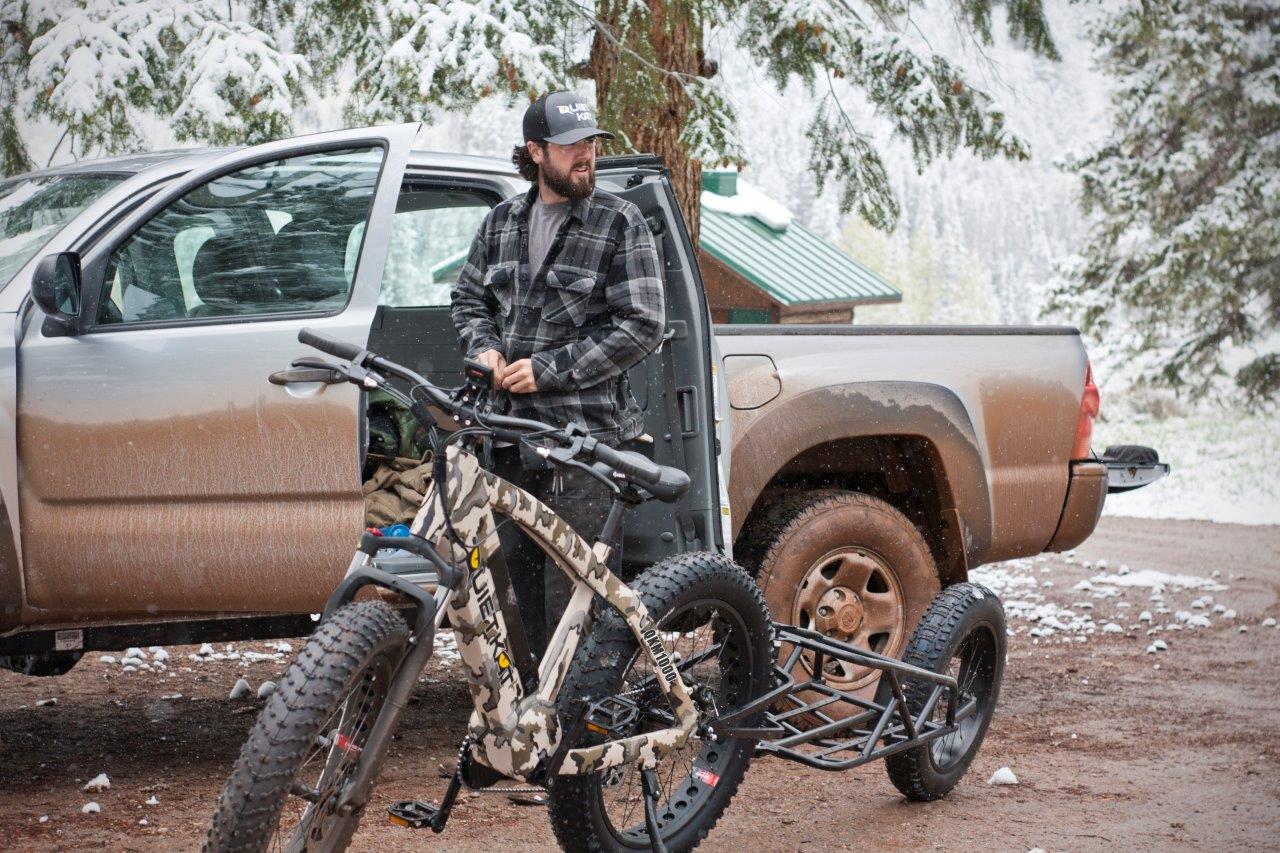 First of all, can eBIke pull a trailer at all?
Of course! Most eBikes are based on mountain bike frames and they also come with additional upgrades that really give eBikes robust and durable features.
After all, eBikes handle well the added weight of the battery and motor. They don't weigh a whole lot but they have a great carrying capacity.
Therefore, on top of the rider's weight, eBikes can also pull specially-designed trailers. These trailers are designed to be sturdy yet lightweight, so only the additional weight stored on the trailer will be the factor thing to keep in mind when it comes down to the weight.
What I like the most is that almost all quality brands that design and produce quality eBikes are also producing additional accessories that include an electric bike trailer.
Benefits of Electric Bike Trailer
eBike cargo trailer can be a game-changer for most people and I've noticed this being the most common upgrade for hunters who enjoy taking their hunting game to another level by switching to the hunting eBike.
On average, an electric bike can pull about 220-300 pounds (100-140 kg). I believe that this is way more than needed for an average rider. But it's amazing to see how the combination of a quality motor, battery, and robust frame, you get to pull a trailer behind you without worrying about the weight.
One of the biggest benefits everyone notices is the balance. With an eBike trailer, you don't need to worry about the balance as the eBike will stand straight at all times.
This a great benefit for everyone who likes to quickly get off the eBike without parking it for every quick stop.
However, not having to worry about the storage, being always prepared to carry stuff around, and transporting things you otherwise couldn't transport really add to the list of benefits. Even if you have a folding eBike – you'll still be able to haul a trailer!
Stability is another benefit that doesn't go unnoticed. Almost all cargo trailers I've seen come with a compact suspension system that helps reduce the strain on the eBike and make the ride with the trailer as comfortable as the ride without it is.
Of course, cargo trailers are as rugged as the eBikes so you won't have to pay extra attention to the trailer. As long as it's attached – it's good to go!
Keep on reading to find out my choice for the best eBike cargo trailer. It's a pretty popular choice and its affordable price is probably one of the reasons!
Best eBike Cargo Trailer
Quietkat is one of the top eBike manufacturers and they're doing a great job at designing great eBike accessories, including trailers.
This electric bike trailer is one of the newest additions to Quietkat's lineup. It fits almost any eBike (as long as it has a rear rack installed) and it's easy to store when you're not using it!
Single-Wheel Design
Quietkat designed this cargo trailer on a single-wheel frame which allows the trailer to stay "tucked in" behind the eBike.
Not only this provides great maneuverability and stability, but it also helps you ride along the narrow paths without worrying about damaging anything around you.
Riding around the town, maneuvering around the cars, or riding on very narrow streets won't be an issue!
Robust yet Lightweight
The whole cargo trailer weighs only 34 pounds so I'll let you judge the lightness of the trailer based on this. However, as you can see, the trailer is well rugged which allows you to store large but also heavy items.
While I believe you might have to secure smaller items, you won't have issues placing larger or heavier items and just taking off. The trailer comes with protective guardrails that will keep your items safe even when you're riding off the road.
One thing is guaranteed. You won't have to worry about the trailer flipping over when it's fully loaded!
Dual-Post Kickstand
When you're not using the trailer, Quietkat installed a dual-post kickstand that will help keep the trailer stable and secure.
All you need to do is find a spot to park the trailer at, use the dual-post kickstand and let it rest until the next time!
I find this very useful when you're loading the trailer without previously attaching it to your eBike. The trailer will stay stable no matter how heavy the objects are. It can also help you connect the full trailer to your eBike without breaking a sweat.
Rear Suspension
Depending on the type of terrain you ride at, this eBike cargo trailer can make the ride smooth. While cheap eBike trailers don't come with a dedicated suspension, riders always feel every bump (even though eBikes come with the proper suspension).
Therefore, this is a great feature that really shows its true benefits when you're riding off the road. Not only the trailer will stay well stabilized, but it won't have a chance to tip over.
I also believe that the suspension can help transport heavy objects without putting a strain on the single wheel or the rear eBike wheel.
On top of the single wheel, Quiekat was clever enough to install a rack that looks pretty much like a rear rack you see on eBikes. This expands the storage even further. I find this to be the perfect place to store smaller items.
Easy Setup
Even though this electric bike trailer comes from Quietkat, it's fairly simple to set it up with any other eBike brand.
If you don't have a Quietkat eBike, all you will need is a BOB axle. Once you get this and install it onto your eBike – you will benefit from the quick-attach system.
This system will allow you to attach/detach the trailer in only seconds.
How Much Does Quietkat Cargo Trailer Costs?
Considering the build quality, the fact that this trailer is built by a top-level eBike brand, and that it fits any eBike – the trailer is really well priced.
It only costs $389. But I highly recommend purchasing it through a retailer as retailers such as eBikeGeneration often include a 5% discount ($20 off).
Therefore, Quietkat eBike trailer costs $369 at eBikeGeneration.
However, here's another tip I recommend! Even though the price might not be very high, I highly recommend using the financing plan at eBikeGeneration.
This will help you purchase a Quietkat cargo trailer for only $62 a month!
Conclusion
eBike cargo trailer can be a very useful addition to your eBike. I noticed the increase in popularity as mostly off-trail riders and hunters take full advantage of this type of trailer.
Considering the price and build quality, this electric bike trailer is very well worth the price as it provides a lot more value than most other trailers.
If you had an extra cargo trailer, what would you use it for?
I'd love to hear from you so don't hesitate to leave your feedback or opinion in the comments below, but if you need any help or want to ask me any questions, drop a comment below!